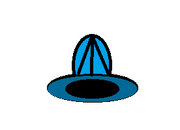 Were you looking for Green Lined Hat or Lined Hat (Bait Item)?
The Blue Lined Hat is a Head Item of Rock World. It will become rare. But not as rare as the super rare hat, Beta Tester Hat.
It starts the series called "Lined Hats". The Lined Hats section can be found in the catalog every few months.
It could go with the blue striped shirt. Found in a catalog a few months after this hat is released.
This hat might be a free item soon. It is still unknown.
Simular Items
Edit
Ad blocker interference detected!
Wikia is a free-to-use site that makes money from advertising. We have a modified experience for viewers using ad blockers

Wikia is not accessible if you've made further modifications. Remove the custom ad blocker rule(s) and the page will load as expected.