The Lined Hat is a Bait Item in Rock World. Only a mascot can get it.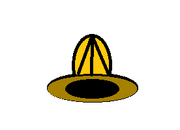 It might become availible to everyone in the future. This is not yet confirmed.
There is a different virsion for everyone to get. It is called "Green Lined Hat".
The only way to see in inventory is to Hack the Mascot's Account. But this cannot be done, Moderators ban Mascots when not in use.
Ad blocker interference detected!
Wikia is a free-to-use site that makes money from advertising. We have a modified experience for viewers using ad blockers

Wikia is not accessible if you've made further modifications. Remove the custom ad blocker rule(s) and the page will load as expected.