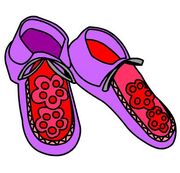 Pinky Shoes are Shoes in Rock World. Thery will be availible for Non-Members and Members. They will be in the Catalog for 200 Coins.
Note that one shoe on the inside is Purple, but the Other one is Red.
There are problems with this item. See with Color Mix-Ups.
These will be released the same time as the Flower Costume.
These will go with the Flower Glasses.
Upcoming Releases
Free at the Garden Party 2017
This item may become rare in the year 2018...