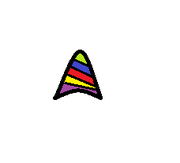 The Rainbow Party Hat is a Free Item in Rock World. It can be found at the 2nd Aniversary Party. It will be a Legendary Item, and will Never EVER Return.
No one will ever see it in a Free Box Again after the Party.
Anyone who wears it a Year After the Party, Will be very Crowded Maybe.
Many new People who join will think its an Un-Released Item. But they are new, So would not know about it unless they read the History of Rock World Book.
It will be seen in one of the Rock World History Books.
It will go good with the Rainbow Shirt.