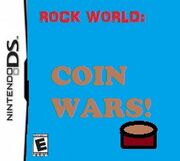 Rock World: COIN WARS! is an upcoming video game. It will be availible for DS, Wii, and maybe Xbox 360. It will work with the 3ds also. But it wont be 3d.
Trivia
It will only be availible in North America and Canada.
You can play exclusive mini-games to earn coins. And you can transfer them.
You can go through levels through the game, Making it harder to complete.
Game Systems Availible
3ds (But there is no 3ds case. Ds games also work in 3ds. So that is how it works in the Nintendo 3ds.)