The Rock World Shirt is an item in Rock World. Everyone can obtain this item by entering the code, freeshirt123.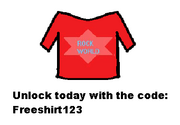 There will be some more Rock World shirts.
Frimmolino designed this item.
Pam pam4 thought of this item.
This is the seventh unlockable item in Rock World.
Ad blocker interference detected!
Wikia is a free-to-use site that makes money from advertising. We have a modified experience for viewers using ad blockers

Wikia is not accessible if you've made further modifications. Remove the custom ad blocker rule(s) and the page will load as expected.