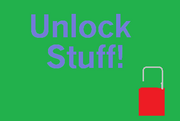 The Unlock Stuff Section is a place you can access when selecting a server. You can use it to use codes like the code "PARTYGUY137". If toys were bought in real life, Players would get a code. So if you got the Spaceman Plush.. You get a space helmet when you enter the code that comes with it.
Anything unlocked will have an icon beside it that says "US" for Unlock Stuff.
You can unlock special items from the magazine code. And these items will become very rare.
Even coins can be unlocked.
Ad blocker interference detected!
Wikia is a free-to-use site that makes money from advertising. We have a modified experience for viewers using ad blockers

Wikia is not accessible if you've made further modifications. Remove the custom ad blocker rule(s) and the page will load as expected.